In Conversation With Anne-Ro from Fashion For Good
OK, let's be honest...sometimes you meet someone who not only has an awesome sense of style but their smart, funny OH and they believe in making some GOOD in the world. Damn it's quite the killer melange hey?! Well, don't be scurred, this week's In Conversation With guest is the lovely Anne-Ro from Fashion for Good.  Oh, and did we mention she also owns one of the god damn cutest cockapoo's out there...proof attached.
Now, grab a cuppa and get tucked in; this is a goodie. 
You currently are the Director of Marketing and Communications for Fashion for Good, can you tell us a little about this company and the role you play within the company?
Fashion for Good is an international company that works towards a circular fashion industry.
At the core of Fashion for Good is their innovation platform. Based in Amsterdam we have different global programmes to help innovators - often young companies, to scale and accelerate. For example, we help them with supply chain implementation - by connecting them to big brands, retailers and manufacturers in our network and we offer support with foundational projects, pilots and funding. This in turn, helps large brands and retailers become more sustainable.
More consumer facing, we also house the Fashion for Good Museum, the world's first and only sustainable fashion museum! Where we organise events and workshops but also have a permanent exhibition that explains the stories behind our clothes and shows the future of fashion.
Photo credit: Fashion for Good
As the director of marketing and communications for Fashion for Good what does sustainability really mean to you?
Fashion is part of our identity nowadays and I would love for fashion to be sustainable for people and the planet and for sustainable fashion to be affordable for everyone, making it the norm. We believe good fashion should be the norm.

Good fashion is not fashion that simply looks good or is mostly good. It is good in five important ways:

Good Materials  –  safe, healthy and designed for reuse and recycling
Good Economy  – growing, circular, shared and benefiting everyone
Good Energy  – renewable and clean
Good Water  – clean and available to all
Good Lives  – living and working conditions that are just, safe and dignified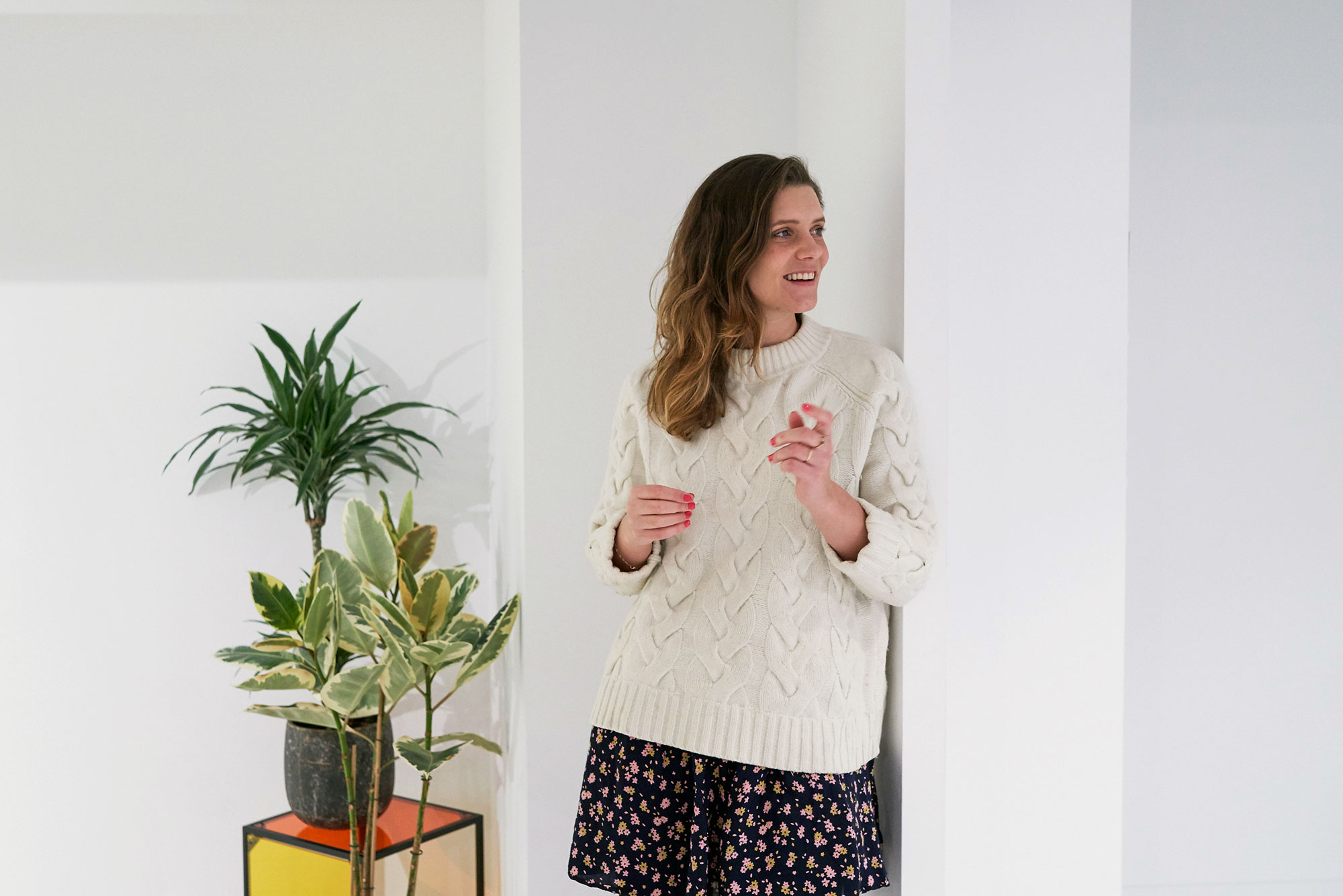 Photo credit: Fashion for Good
 As a female currently working in a job she feels passionate about, is there any advice you could give to an aspiring woman who is scared to take that leap to follow her dream job?
Always follow your heart. You are good enough, you can do anything you set your mind to. Do not ever be scared of change. Apply for the dream job.
If you are in a current role that's not focused on sustainability, yet it's something that you want to do, perhaps try to ask for a change in your current role, within the same company.
"Just start with asking."
I still learn (every day) that asking for something, may actually get you somewhere, even though you may expect there are no options or possibilities, just start with asking. Not every job I had historically was a dream job for me, but I try to learn as much as I can wherever I am, and that brought me to where I am right now. So sometimes you're just where you need to be, at that point in time, and that is fine too.
Photo credit: Anne Ro
This is a tough one so don't shoot us! As the Editor-at-Large for Sustainability at Vogue Netherlands do you think publications, such as Vogue, are doing enough in educating readers in sustainable fashion?
Well, enough? The industry isn't the best it can be yet, so no. But I do have to say I have seen a huge shift in the last few years, which I am incredibly proud of!
When we (at Fashion for Good) opened our Museum in 2017, not a lot of fashion journalists would come and pay us a visit when I'd invite them. And that has drastically changed. More and more fashion journalists now also write about sustainability and not just cultural topics or trends anymore, and that is so so important.
Media plays a huge role in educating, questioning and empowering the public and I am happy to see it's becoming a more common topic in all titles for that matter.
Photo credit: Fashion for Good
Recent book/podcast that you'd like to share with our readers?
I enjoy so many different types of podcasts lately, Tess to Sustainability (but in Dutch sorry!), or Oprah's Supersoul Conversations, as long as I can learn and grow my perspective, I am happy. That could mean focusing on sustainability topics but also on new stories and inspirational experiences from others.
I find it key to being able or to try to understand people from different walks of life, because it helps with work but also in my private life, connecting to others for me is (sorry for going so deep) the reason why we're here. 

Photo credit: Laura van der Spek
We love a nosey into a morning routine; how do you like to start your day?
HA! I start my day with my dog. She wakes me up by wagging her tail against my bed linen which always puts a smile on my face. We go for a walk together, and afterwards I'll make a healthy breakfast and watch the news or listen to a podcast.
I try to end my working days with recapping what I did that day and summarise the to do's for the next day, so that I, in the mornings, can be as relaxed as possible. A morning walk in the park definitely helps with that!
Photo credit: Anne-Ro
Finally, what's next for you? Are there any exciting projects coming up that you can fill us in on?
The Museum reopened only recently and we currently have an amazing exhibition on biomaterials called GROW. It's a beautifully curated exhibition on natural materials.
Most natural materials you know are cotton, linen and hemp. But a lot of innovations are being done since we are facing so many challenges around materials in the fashion industry, the way we're currently using textiles isn't sustainable and we need new more alternative options. Therefore talented scientists are working on leather alternatives, biodegradable glitters made from eucalyptus and so much more.
But how do you know it's sustainable? When can we wear a mushroom leather jacket? That and so much more you can discover in GROW in our sustainable fashion museum in Amsterdam but also remotely via virtual tours.
Next iteration is a GROW 2.0 expo, where brand new biomaterials will be turned into garments, made by up and coming designers and content creators, who will turn the garments and stories around the garments into a new expo, opening in October - incredibly exciting to literally see what the future of fashion will look like!
 Check out the Fashion for Good Museum