Fabrics
Recycled polyamide aka Econyl®
Our fabric supplier is based in Italy. They are leading by example by joining global projects such as "Healthy Seas a Journey from Waste to Wear", which is aimed at saving our seas from discarded fishing nets and creating green fabrics to help close the loop on fashion.
Our Eva legging and Tina Sports Bra is made using the sustainable techno-fabric  Econyl® - a 100% regenerated polyamide fibre from post-consumer materials - old fishing nets and mats, and also waste from the manufacturing industry. 
The factory we use is based in Portugal, Barcelos in the heart of the textile industry. We chose to use them as not only does it mean a smaller carbon footprint than perhaps shipping from China but they have labour and ethical working standards that work in harmony with our values. 
 Our Eva leggings are made from
78% recycled polyamide
22% elastane
Tencel™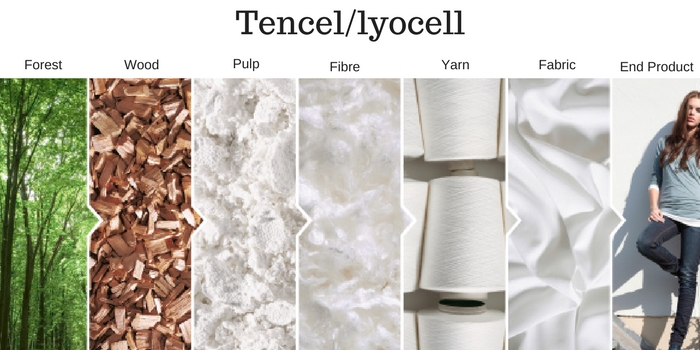 Lyocell, better known as Tencel, is a fibre made from the wood pulp of trees that are grown and replaced on specialised tree farms. Unlike most cellulosic fabrics, Tencel is produced using recyclable, Earth-friendly solvents.
Tencel has incredible absorption characteristics and is 50% more absorbent than cotton. Because they're more breathable and less susceptible to odorous bacteria growth, these fabrics are perfect for a sweaty gym or bikram yoga session, making them ideal for activewear!
How is Tencel made?
Tencel is made by dissolving wood pulp and using a special drying process called spinning. Before it is dried, wood chips are mixed with a solvent to produce a wet mixture. The mixture is then pushed through small holes to form threads, which is then chemically treated and the lengths of fibre are spun into yarn and woven into cloth.
Tencel is made from plant materials. However manufacturing Tencel requires less energy and water than cotton. As a naturally derived fibre, Tencel is also biodegradable.
The solvents used to turn the wood pulp into fibre are made using petrochemicals. However the closed loop production process, means that the solvent is recycled time and time again to produce new fibres and minimise harmful waste. Lenzing Group says the solvent recovery rate is 99%.
Bamboo viscose
 We choose to use both recycled fabrics as well as natural fabrics as we believe both fabrics have some great attributes. Bamboo viscose  has the ability to both feel soft to the touch as well as being antibacterial; great for those days you sweat more than you thought you might!
Bamboo is quickly becoming an alternative to cotton as one of the most sustainable plants. 
Some interesting facts about bamboo:
- Bamboo is fastest growing plant in the world and yields more often from the same plot
- There is no need for any pesticides or fertilisers to grow the bamboo unlike cotton
- 100% biodegradable 
- Bamboo only needs rain water to grow. Unlike cotton where it can take more than 20,000 litres of water to produce 1kg of cotton; equivalent to a single T-shirt and pair of jeans. 
Bamboo, a type of tropical grass, has an extensive rooting system that grows on average four to six new shoots a year, naturally replenishing itself. It provides an abundance of usable oxygen making it a crucial element in the balance between oxygen and carbon dioxide in the atmosphere.
Ok, so that's the good stuff. We also need to be transparent and state that although bamboo has some great qualities the process of turning the bamboo into a fabric involves dissolving cellulose material such as bamboo in a chemical solution to produce a pulpy viscous substance, this process can be toxic and harmful to the environment.
Although we started our journey with bamboo, we are constantly growing and learning as a company and therefore choosing to use other more eco-fabrics as we go along.